In ICEcad, there are several ICEcad functions that you can use to work with your drawing view. You can only access these functions in ICEcad; they are not available in ICE.
Refreshing ICEcad
If your drawing isn't updating or responding as expected, you can Repaint or Rebuild Ice so that your ICE layout refreshes in ICEcad. Repaint is an AutoCAD function that regenerates the drawing. If Repaint isn't working for you, you can try Rebuild Ice, an ICEcad-specific function. Rebuild Ice actually takes the information that ICE has passed to AutoCAD and regenerates it, regenerating the drawing in the process.
You can find Rebuild ICE and Repaint ICE in the ICEcad View menu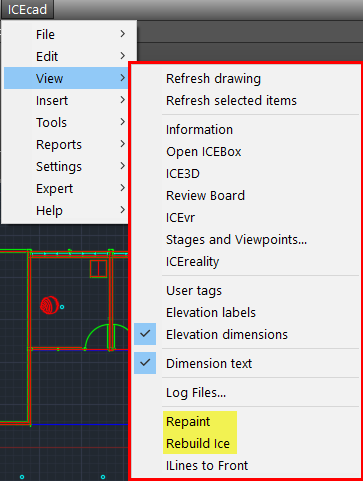 DXF Line and i-Line Visibility
You can also adjust some i-Line and DXF line settings. Show DXF Lines allows you to show and hide DXF lines in ICEcad.
Bring i-Lines to Front allows you to move i-Lines to the front and back of the ICEcad drawing. In this example image, the i-Line is a red line that appears on top of all of the other items in the drawing: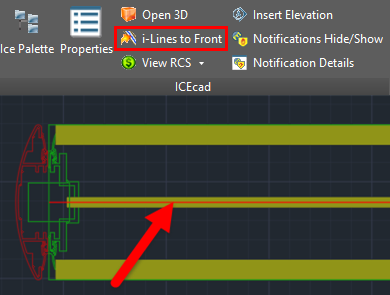 Show DXF in ICEcad allows you to toggle DXF lines on and off in ICEcad. You can find Show DXF in ICEcad in the ICEcad Tools menu.
Topics:
•Bringing i-Lines to the Front of a Drawing
Topic last updated on 3/16/2023.