For large or complex projects that require substantial AutoCAD work, you can edit the Shop Drawing in AutoCAD without being linked to ICE. Once your AutoCAD work is complete, you can relink the file to ICE, and the work will be imbedded in a single file once again.
Once you start ICEcad, linking ICE and ICEcad, you can use the Remove DWG function to break the link between the two applications. When you break the link, you are prompted to save your ICEcad drawing as a separate .DWG file. After you remove the .DWG file, ICE and ICEcad are no longer connected. Changes that you make to your layout in ICE will not be reflected in the AutoCAD drawing and vice versa.
To Remove an ICEcad Drawing
Before you remove the ICEcad drawing from your ICE file, save your ICE file.
Caution: Once you break the link between ICE and ICEcad, it cannot be undone. Instead, you must relaunch ICEcad and relink the two applications.
1.On the ICE 2D plan view primary toolbar, click Remove DWG.
When ICE and ICEcad are linked, the Remove DWG function on the primary toolbar becomes available, as shown here:

Tip: You can also access Remove DWG by right-clicking the Launch ICEcad icon. When ICE and ICEcad are linked, Save and Remove ICEcad Drawing becomes available.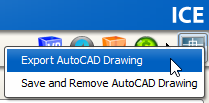 A Save and Remove ICEcad Drawing dialog box appears, explaining that you must save the linked ICEcad drawing before you can remove it. After you save the drawing file, ICE automatically closes it and removes it from your ICE file.
2.In the Save and Remove ICEcad Drawing dialog box, click OK to continue and save your ICE file.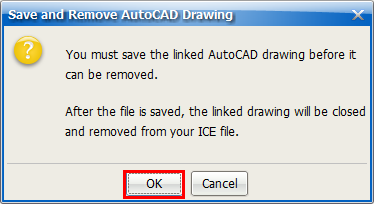 The Save dialog box appears.
3.In the Save dialog box, type a File Name and click Save.
If you want to navigate to another save location, you can use the Save In menu to select a different folder location. This example image shows the Save dialog box with the Save in menu, File Name field, and Save icon highlighted: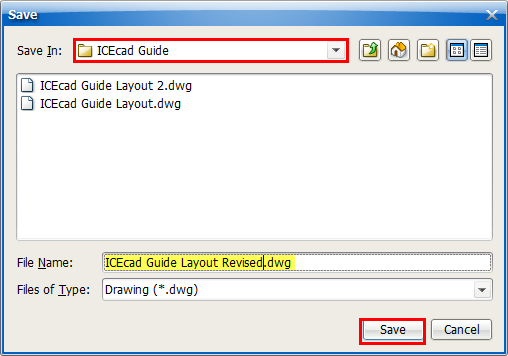 Once ICE removes the drawing, the Export DWG and Remove DWG icons become unavailable, appearing grayed out, as shown here:

4.If you want to do separate CAD work in the shop drawing, navigate to the save location, and open the shop drawing in AutoCAD.