What's in it for you:
•The simple import function makes using this method a HUGE time-saver.
•No extra work is required by the architect or designer, they just need to send you the updated DWG file.
•Modifications seem quick and transparent to your client.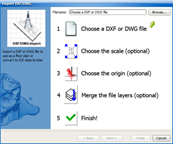 Keep in mind:
It's important to keep the same DWG import settings every time you import, this way you can guarantee the updated floor plan will appear in the exact same location every time.
If you imported the original floor plan to the origin point in ICE (0,0), continue to import any updated plans to the same origin.
How you do it:
1.Select a line from your DWG to trigger the right-click menu option Replace All DXF/DWG...
2.Select the updated DWG file
3.Choose the same Scale, Origin, and Layer settings, then select Finish.
4.The original floor plan will be removed and replaced with the updated floor plan.