If your machine is having difficulty running ICE 3D, try reverting to Legacy 3D for a smoother performance.
To switch to Legacy 3D:
1.In ICE 2D plan view or ICE3D, click File.
2.Select Application Settings... from the list of options in the dropdown menu.
3.Select 3D Settings from the menu on the left.
4.Under the General tab of the 3D Settings window, click the check box to the left of Use Legacy 3D (restart required).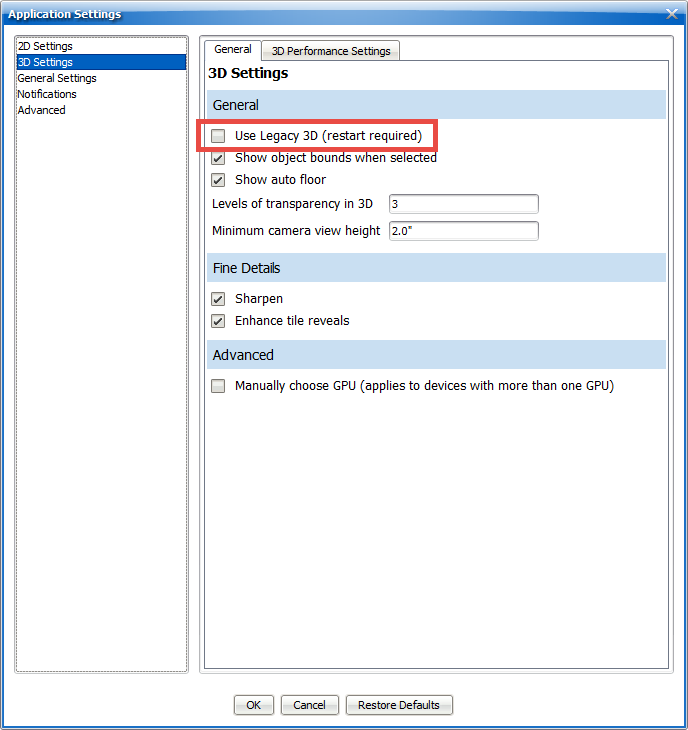 5.Close ICE and restart the program. Your ICE3D window will now display the Legacy 3D interface and functionality when you launch the software again.
6.Repeat steps 1-5 to stop using Legacy 3D and revert back to ICE3D.
Appearance of Objects
Certain objects, such as ICE People and animated accessories, may not appear when transferring an ICE file from ICE 21 3D and opening it in Legacy (Milan) 3D. The objects are not deleted and are still present in the file, but Legacy 3D does not recognize them as an ICE object.
They will reappear once you open the file back in ICE 21.