The Product Tree is in the top left corner of the 2D window. It has folders that contain products available in ICE and other tools that you can use to layout a plan.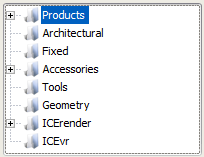 Folders are opened by expanding them using the + buttons.
When a folder in the Product Tree is selected the Product Palette will show images of the product in that folder.

Last updated: August 2023