Medical Accessories are located in the Product Tree. There you will find:
•Furniture- Beds, a stool, over-bed tables and a recliner.
•Miscellaneous - Care cart, curtain, floor decal, floor scale, IV pole, hamper, oxygen tank, sharps container, portable workstation, sanitizer, supply cart, trash can, ventilator and wheelchair.
•Rail Mounted - Various accessories that can mount to a horizontal or vertical rail.
•Wall Mounted - Various accessories than can mount directly to the wall. Includes hand rails.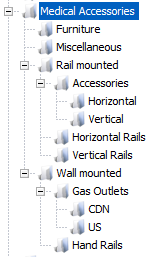 These items are only used to enhance a 3D rendering, image or screenshot and can help the design look and feel more like a real space.
To use these items, follow the steps on the Accessories page.
Last updated: August 2023