FX Finishes: When enabled, allows for enhanced, more detailed finishes to be displayed in the 3D view and renderings. FX finishes include chrome, glass, aluminum, leather, etc.
Note: Enhanced finishes come from specific manufacturers, thus, this function may not work for all items in a given drawing.
To enable FX Finishes:
1.In the 3D window, under the 3D Styles menu, select Reveal Style Settings, or under the Render Styles menu, select Photo Style Settings.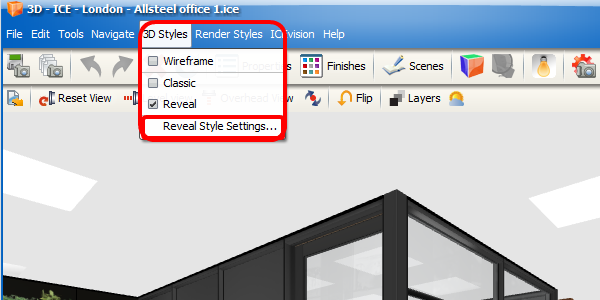 2.Turn on or off FX Finishes in the Reveal Style Settings menu. The default setting is On.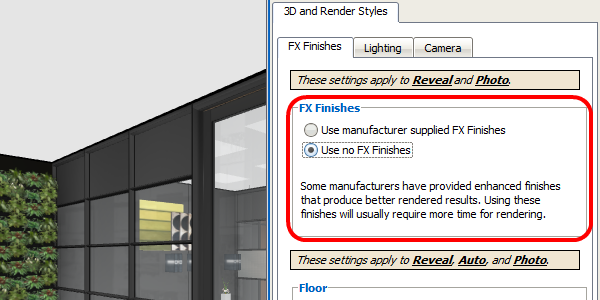 3.Floor Reflectivity can also be adjusted in the FX Finishes tab. Use the slider to adjust the level of floor reflectivity and press OK to confirm your adjustment.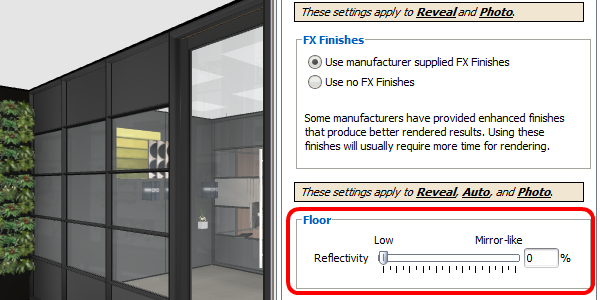 4. Save any settings created in the styles settings menu for access later. This feature can also be restored to the original defaults by selecting Restore Defaults.