The Field of View is the area that is visible (as through an optical instrument).
To control Field of View:
1.Select the type of lens to show a specific angle. The Lens drop-down menu has preset lens sizes to choose from.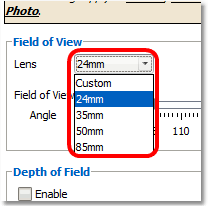 2.To use a Custom view, use the Field of View Angle slider to adjust how narrow or wide you want the visible area.