The Unit function allows to change the units of Measurement Type and the Precision Setting.
To change the Setting Measurement Unit:
1.Click the Unit button in the Secondary Toolbar.

2.From the drop-down menus, change:
a.Measurement Type: This is the unit type, e.g. Imperial, Metric, etc.
b.Precision Setting: How detailed the measurements will be shown.

3.Click OK to apply.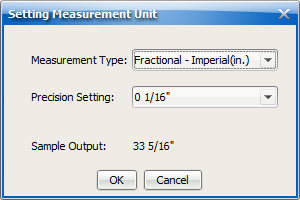 Last updated: May 2023